The Puppet Place: A Very Special Theatre Experience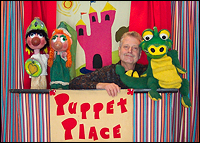 Mark Nichols
The Puppet Place, one of the oldest established puppet companies in Chicago, Illinois, is a touring theatre that can be found anywhere there's an audience ready to experience the joy that puppet shows bring. Director and master puppeteer Mark Nichols brings The Puppet Place stage to schools, libraries, shopping malls, neighborhood festivals, summercamps, birthday parties, holiday gatherings, and corporate events throughout Illinois, Indiana, Michigan, and Wisconsin.
The Puppet Place's original adaptations of classic tales, "The Tale of Peter Rabbit," "Hansel and Gretel," and "The Magic Onion," promote positive attitudes and family values. Its performances use a variety of puppetry styles, such as hand, rod, string, and shadow, which are mixed into each story to add depth and interest. Musical scores incorporating classical and contemporary music are also employed to add power and audio color to the presentations. The stories can be adapted for holiday programs and events such as Easter, Halloween, and Christmas.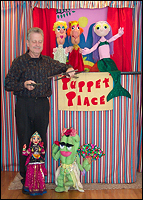 Mark Nichols
The Puppet Place not only offers an array of puppet shows, it is available for residencies, and its workshops—which are adaptable to any age group—are very popular with park district programs, preschools, elementary schools, Boy Scouts, Girl Scouts, and day care centers.
The Puppet Place is a touring company—we come to you. For more information on scheduling a show, a residency, or a workshop, call 773-525-5944 or contact Mark Nichols by e-mail through ThePuppetPlace.com website.
We look forward to hearing from you!