The Puppet Place Shows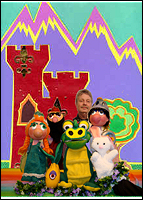 The Puppet Place proudly offers the following shows for your viewing pleasure. Each one lasts approximately 45 minutes. After the performance the puppeteer will be happy to show the "behind the scenes" workings of the puppet theater, and answer any questions.
The Puppet Place will also be happy to adapt a show to suit your orgnization's or event's theme or focus. The they have also been adopted for holiday programs or events such as Easter, Halloween, and Christmas.
Contact us by calling 773-525-5944 or e-mail through the website for details, pricing, and availability.
The Tale of Peter Rabbit


A Story About Listening to Your Parents

Hansel and Gretel


A Story About Child Empowerment

The Wonderful World of Puppets


A Journey Around the Globe

The Magic Onion


A Story About Friendship